Action cameras are designed to capture your adventurous side. Whether you are skiing, bungee jumping, zip-lining, rafting or snorkeling, it can take the bumps with you. These cameras can be of use anywhere. From underwater or even in freezing grounds their optics can deliver high-quality photos and videos with a touch of a button. Here, we look into the best GoPro alternative cameras with a touch of affordability. These cameras do not make any compromises when it comes to the features. In fact, they are the best on the market.


The Features You Need to Consider Before Buying an Action Camera
Image and Video Quality
Here, we look at the megapixels. You'll want to consider an action camera which offers high megapixels to deliver still images in a fast paced environment. You'll encounter 4K, full HD (1080P) and standard HD (720P), from the highest to the lowest respectively.
Construction
The camera you pick should also be completely weatherproofed. It should be water, dust, debris and even shock resistant. This is because if you are going to be facing the extremities, only a rugged camera can get you the experience you want.
Compatibility
After shooting your videos you'll want to view them on a monitor or your TV. High-quality videos that use 4K tech are only compatible with devices that support 4K. Always check for such compatibility before embarking your search.
Lightweight
Your next action camera should not weigh you down. Remember you are taking videos and photos in adrenaline pumped expeditions so your camera should be the least of your worries.
Battery Life
Most action cameras have a tendency of offering just a few hours of continuous use. Even if you could choose a camera with long battery life, you would end up spending top dollar for one. The best thing you could do is buy a camera which has cheap spare batteries.
With this list, you can now be comfortable as you take your next trip to wonderland.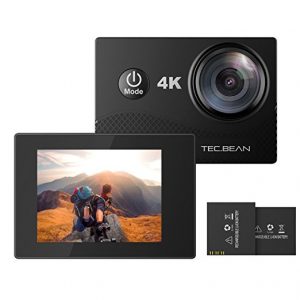 If your Instagram is not yet filling with likes about your last summer's expedition, it's time you invest in the TEC.BEAN Sports Action Camera. This is a small and lightweight camera that can be taken virtually anywhere. It is water resistant and can be submerged around 30 meters making it perfect for all the water sports you enjoy. With the 4K image and video quality, you'll be able to capture still images without blurry images. Even better, it can even shoot smooth movements thanks to the 60fps capability. This camera comes with a 2.0LCD screen plus Wi-Fi such that you can watch videos and upload them in real time by connection to your smartphone or tablet.
This camera is ideal for everyone who wants some splash in their games. It comes with several waterproof cases plus a whole lot more accessories. These include the bicycle mount and helmet mount when you want to shoot your speed thrills. The good thing is that it is easy to operate and it comes with a camera clip so you'll never drop it.
PROS
It comes with rechargeable batteries
It supports both Android and iOS devices
It has a wide 170-degree field of view
Constructed with durable elements
CONS
The user manual is not well-written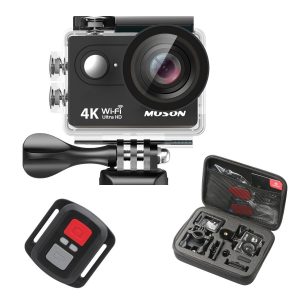 Enjoy life in your best moments with the Muson Wi-Fi Action Camera. It is a compact kit that will not only help you film stunning footage but you'll also be able to share with your friends and loved ones. The Wi-Fi enabled Cam lets you control the unit as you cruise using your iOS and Android devices. This way you can upload live footage as you get into your groove in the most daring positions. It is great for underwater shooting since it is all weatherproofed up to 30meters. You'll also get to store every video and picture using a 32GB memory card. You'll fall for the various operation modes including burst photo mode, snapshot and time lapse mode.
The best moments are the ones captured by Munson Action Camera. You can't beat the quality of the images plus video footage. It is perfect when you want to share live action videos and photos right on your Facebook, Instagram and all other platforms where you want to share the love.

PROS
Boasts a large screen
Ideal for extreme water sports
Wi-Fi enables control and to stream live footage
Captures in a wide angle perspective of 170-degrees
CONS
It takes longer to recharge the batteries
This action camera offers the best of video and photos in equal measure. If you'll want to be part of the summer or winter sports, the EKEN Full HD 4K Action Camera is the real deal. From the many accessories to the waterproofing, it is sure to satisfy your love for stunts. First, it features the best resolution among action cameras. There's nothing you won't capture with 4K tech. You can jump out of the plane for a dive and it follows that motion with optimum agility. The beauty of this camera is in the versatility. You can shoot in one of the modes which include the loop and time-lapse for self-capturing.
Extending your outdoor capabilities is even more achievable with the EKEN H9R. It is dedicated to those daredevil activities that others rarely experience. It is not only waterproof but it is also built to last through many thrills.

PROS
It has an inbuilt HDMI port plus it supports Wi-Fi
Comes a 2-inch HD display
It comes with mounting accessories
Comes with a wrist remote
CONS
It's not totally waterproof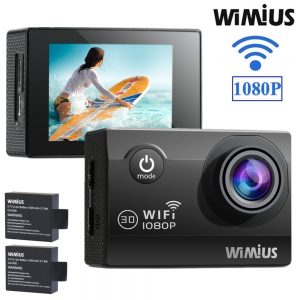 The WIMIUS action camera is nothing like you have used before. It offers a combination of functionality and performance in one very excellent camera for shooting from anywhere on this planet. It is a small unit but the features it brings forth makes your world spin in a whole new dimension. You'll like that it can shoot in full HD on a 2.0 inch LCD screen. The camera is made for the real outdoors if you are zip-lining on a wet rainforest or taking a head jump from a cliff, this camera will always give clear crisp images at the end of every session. And, you won't be deleting or reformatting the unit to accommodate many pictures. It supports a 64GB memory card for all your activities in one place.
The WIMIUS Q2 offers top quality features to support all types of outdoor activities. It is splashproof, can be controlled remotely via the Wi-Fi app, and has excellent sound recording capabilities. This is the camera that your friends will envy so don't miss on all the great photos and videos to make it happen.

PROS
It syncs with a Wi-Fi connection for real-time streaming
Carries two rechargeable batteries
It has multiple camera shooting modes
It allows USB and HDMI output
CONS
It does not come with the SD card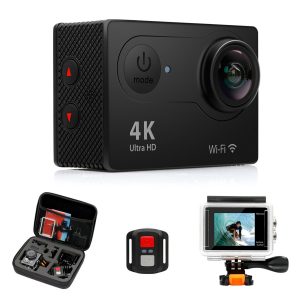 If you find yourself wondering what you were doing on vacation, you'll want to invest in the FITFORT 4K Action Camera. One, it is one of those devices that lets you catch split-second moments thanks to its high resolution. You won't need to invest in multiple devices since you can vary the image quality regarding where you are. With a 170-degree angle lens, it is capable of seeing far and wide to shoot every aspect of your holiday activities. If you love sharing those epic moments with friends and family, you are in luck. With your iOS or Android phone, you can save the videos and photos and share them on all the social media platforms you love. It also has an admirable battery with the capacity to extend its life through its inbuilt screen saver.
Anyone who loves the outdoors will love working with this action camera. It is reliable, convenient, and durable. The operations are easy to master plus it offers many accessories. You can also customize its usage by chipping in other accompaniments that do not come with it like a camera stick.

PROS
It is waterproof up to 100ft
It has long range Wi-Fi up to 33ft
It is mountable on many devices and equipment
Comes with a wireless, wrist, remote control
CONS
The battery door is sometimes hard to come off
Nothing beats a good action camera like the AKASO. It is the best when it comes to Wi-Fi and uploading of videos and images in stunning HD quality. If you want to look at a picture and love how lifelike it seems, then you need to take this camera with you. 1080P and 30fps are what you get to bring the special moments closer and carry them with you. With two 1050AH batteries, it can record for 90minutes continuously. This camera gives you total control as it comes with a 2.4Gwireless remote control plus a wide angle of view. Along with the waterproofing up to 30meters, it is an all-around camera that does not disappoint.
For you that live an active lifestyle, the AKASO camera is made just for you. From the excellent resolution to the sturdy housing, it what you want on the next and every live action you partake. The Wi-Fi is faster than on any other camera which qualifies it as the best action camera under $100.

PROS
It has 12MP photo quality
Comes with accessories to install on multiple platforms
Supports 32GB memory card
It can shoot in slow-motion
CONS
The audio quality is not the best
Do you ever wonder how other people catch their daredevil stunts? Well, wonder no more because with the APEMAN 20MP 4K Action Camera you can also be able to be at the heart of your endeavors and get it all on tape. The beauty of this device is in the 4K HD capabilities. Wouldn't you like to capture the most admirable pictures with every natural color? That's what this camera gives you. It provides professionally done photo quality thanks to the 2K 30fps and 4K 25fps. You won't need tagging someone along to make the shots since it is mountable on skateboards, surfboards, drones, bike and other equipment. It comes with all the accessories you'll need to clip it.
You no longer need to dream of shooting epic moments. This camera does it all for you in the most incredible ways. The unit supports Wi-Fi and a 64GB memory card. You can also connect it to a TV or monitor via HDMI port when you want to relive the best moments of your life.

PROS
It is Wi-Fi enabled
Water resistant to 30meters
It has two rechargeable 1050mAH batteries
Achieves full field of view with 170-degree angle lens
CONS
The battery life is shorter when compared to other cameras at only one hour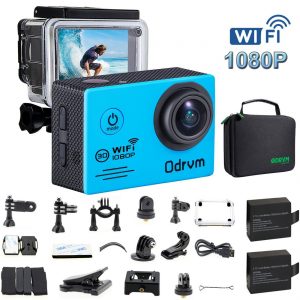 If you love white water rafting, bodyboarding, surfing and the like, you'll want to check out the ODVRM Underwater Action Camera. It is Wi-Fi enabled for your friends to catch on the live action when you are at it. With the capability of 98ft immersion, you'll enjoy every moment you catch on splendid full 1080P HD. Using the mobile app for this specific camera you can edit and share on Android and iOS devices. The most remarkable feature of this camera is that it can hold up charge for over 2hours. It is the longest you'll get on an affordable camera but still very reliable. It also pleasing that you can zoom in and out and play with many other modes including car-mode, motion detection, diving, and anti-shaking operations.
Get the best out of your outdoor activities with this action camera. Kids can use it as it has very simple functions. And for the adults, there are many accessories to mount on the boards and equipment you'll use when you are out living life to the fullest.

PROS
It has an HDMI port
Batteries last longer than on regular action cameras
Shoots in full HD
It has long range Wi-Fi at 33ft
CONS
It has poorly written user instructions
Your perfect outdoor accompaniment must be CAMPARK ACT74 Action Camera. It uses a Sony Sensor to deliver every detail on moving images. The quality is top notch owing to the 4K resolution. For you that can't get enough of water sports, this camera lets you shoot over a 170 angle of view. You'll not only catch yourself beating the waves but also the rushing tide behind the surfboard. It features a fisheye lens which lets you get the landscape even from a distance. It has a vast assortment of mounting adapters so you can install it on your favorite sports gear and never have to worry about it dropping from the sky. The battery life is another distinct feature seeing that it can hold a charge for around four hours.
This is an improved action camera which lets you film high-quality videos and photos. It is perfection in fast-paced activities where you need everything captured in its own right. The battery life is exceptional and the price is even better.
PROS
It can connect to external devices via USB or HDMI
Enjoys long battery life
Features a wide HD screen
Long range Wi-Fi connectivity up to 10meters
CONS
One back panel for the sound on the case is not waterproofed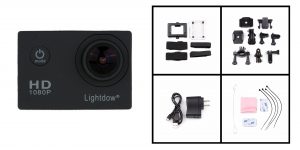 Relive every craze you get into using the Lightdow Sports Action Camera. It is the most popular brand, and we now know why. This unit is a subtle size, weighs little for portability. It can fit in your sports gear with a line of different mounting adapters. It uses an original NOVATEK chip to ensure that every motion picture you shoot is in the best quality. With the capacity to shoot in full 1080P at 30frames per second, you'll enjoy every moment you spend in the outdoors. It boasts a 170-degree angle of view which is another important feature if you are looking to catch the snow peaks as you ski along them. It also comes with two rechargeable batteries so you'll never need to swap them out.
It's easy to see why many people gravitate towards this camera. The resolution is amazing, the operations are smooth and it comes in bright colors. It holds a charge for long where you can be out for extended hours and be able to get all the action without it dying on you.

PROS
It has many operation modes
It achieves all-around quality in videos, photos, and audio
Comes with all the necessary accessories
It is entirely weatherproofed
CONS
Isolated complaint about the case obstructing images
Conclusion
These cameras are unlike any other you'll find on the market. They come bearing 4K and full HD quality, they are lightweight, compact and most of all they are affordable. These are leaders of the outdoors action and if you want to relive every moment you'll want to be caught in one.