A household tool kit makes it easier for a homeowner to do small repair jobs on their own. It can also come in handy when you want to undertake a home improvement project. There are various brands to select from. You need a house tool kit that has all essential items you would require for simple jobs around your home. Here are the top 10 tool kits to choose from.
10. Stalwart 15 Piece Tool Kit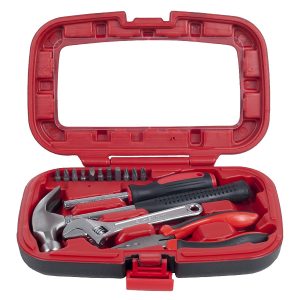 This compact kit is ideal for office and household use. It comes with a sturdy case that makes it easier to organize and transport. It has screwdrivers, hammer, wrench, head bits, and pliers.
9. Stalwart Piece Pink Tool Kit-Household Car & Office
It is ideal for auto, office, and household repair jobs. This is one of the best options for those emergencies. It also comes with a sturdy case and a variety of tools including nose pliers; tweezers, screwdrivers, measuring tape, and hammer.
8. TEKTON 6655 Needle File Set 10-Piece
This kit contains a variety of tools that can be used to repair watches, clocks, hobby models, and jewelry. The tools are designed for use on small soft metal, wood, or plastic items. They are also comfortable and have rubber grips to enhance accuracy and control.
7. Crescent Mechanics Tool Set, 170-Piece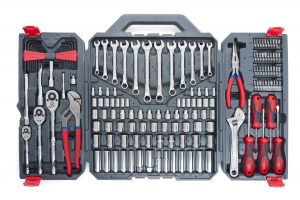 This kit has a sturdy mold case and enhanced screwdrivers. It has a wide variety of hand tools that are needed for basic consumer, mechanical, and industrial applications. All the tools have met ASME and ANSI specifications. It also has a satisfaction guarantee.
6. Apollo Precision Tools Household Tool Kit, 53-Piece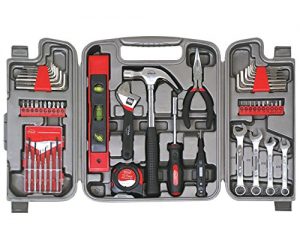 All the tools have been heat treated to ensure durability and strength. They also meet ANSI standards. This brand comes with a sturdy carrying case to keep all your tools in place. It has a limited warranty.
5. Stanley Home Repair Mixed Tool Set, 38 Piece
This kit contains everything you will need for your DIY projects. The tools included can be used for fastening, measuring, home repair, and hanging pictures. It comes with a lifetime warranty but it is limited.
4. Apollo Precision Tools Household Tool Kit, 71-Piece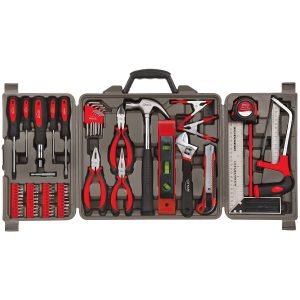 This house tool kit has 71 basic hand tools. All of them are heat treated. The tools also have a chrome finish that prevents corrosion. It comes with a carrying case. The tools have passed usability, finish, torque, and hardness tests.
3. Stanley Mixed Tool Set, 210-Piece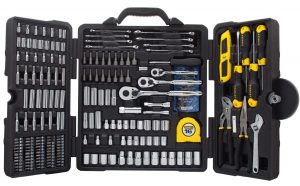 It has a chrome vanadium body that makes it durable and strong. The kit has a chrome finish to prevent corrosion. All the tools have fulfilled ANSI specifications.
2. Black+Decker Lithium-Ion Drill and Project Kit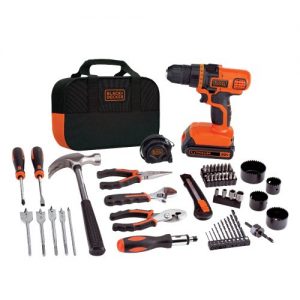 This home improvement tool kit features a 20V lithium drill that can be used for various projects in the home. It also has a lithium ion battery and is always ready for use. The battery can remain charged for about 18 months. The kit has 66 tools and a variety of accessories. It also has a carry bag to allow for easy storage and portability.
1. Stanley Homeowner's Tool Kit, 65-Piece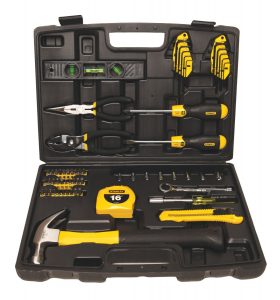 This house tool kit comes with a wrench and screwdriver set. It has ergonomically designed rachet handles that make it ease to use. The rachets also have a reverse-switch system. All the extension and sockets on this kit stay locked until you disengage them. All the tools fulfill ANSI specifications.